Rain has come and gone, continuously, in the past three weeks. The northern/central part of the country had to put up with a major storm two weeks ago. And there have been those low-pressure area things all over, contributing to the dreary weather that, unfortunately, remains humid (read: sticky!) even though it's already the beginning of the wet season.
My summer-loving heart bids an early farewell to the beach and to the long, hot days of doing nothing. (Not that I had many of that sort of day this summer; to my credit, I was quite the productive turtle for one and a half months!) Tomorrow is officially the start of enrollment for the new semester, and I am ready as un-fluffed cookie dough for school.
I normally post this sort of thing over at my
livejournal
, but I thought, "Hey - might as well do it here too!"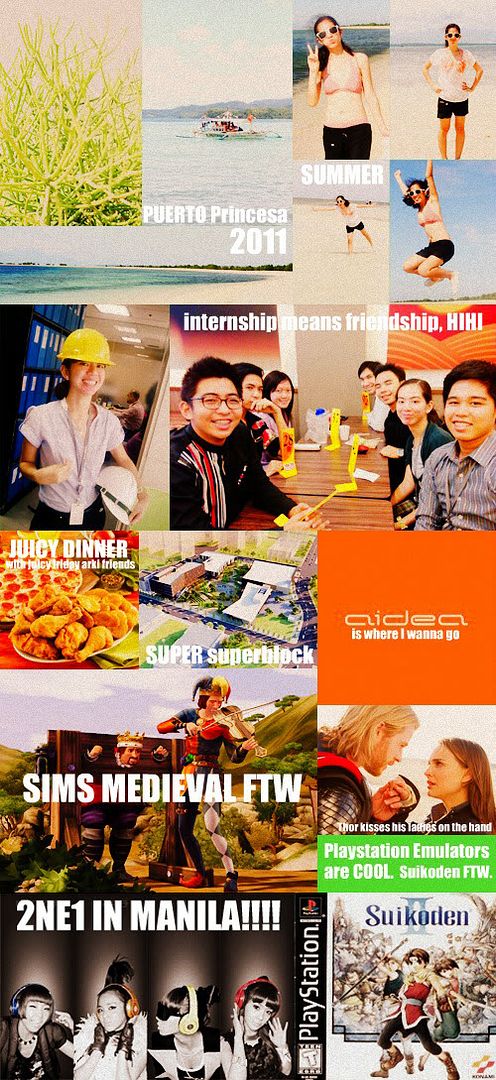 It was one of the most productive summers I've had, I think, because:
I had a summer job.
I got to play my childhood frustration, i.e., Suikoden II (which, at the moment, is still running on my PC!)
I went to the beach.
I met new friends!
2NE1 (my K-pop girl group love, I'm proud to admit) came and I saw them in concert! (I don't normally go to concerts; the last one I went to was when Blue came to Manila, and that was almost ten years ago!)
Anyways, here's to hoping that Palawan is not my last trip this year. Hopefully, by semestral break, I get to go somewhere like Bacolod for Masskara Festival again, or to Iloilo to meet with an old friend, or even to Baguio to finally visit the BenCab Museum once and for all!
Summer may have ended, but I, Carla, shall not cease to dream of reading the world soon! May your summer be as wonderful and full of sunshine as mine was. :D